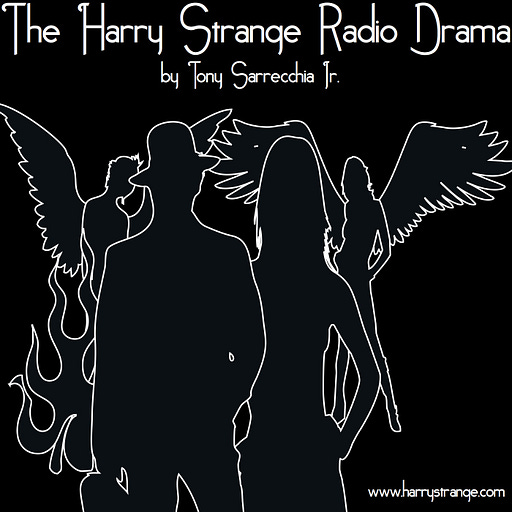 Aug 27 • 1M
The Monster Universe Audio Drama
From the creator of the Harry Strange Radio Drama
"Magic and magical people—the 'unnatural order' is all around us. There are good witches, evil witches, demons, vamps, werewolves, shape shifters, ghosts; it's a protoplasmic party of creature features out there. But unless you know where to look, you won't find them. I know where to look. My name is Harry Strange." And so begins each episode of the Harry Strange Radio Drama, an award-winning, full-cast, scripted audio drama. Harry is a crusader for justice, and champion of an archangel who makes his own decisions regardless of what the 'good guys' desire. Because of a promise Harry made, he is "both painfully mortal and achingly immortal, and those conflicting impulses mesh with an almost unearthly smoothness throughout his casebook history." A combination of "Yours Truly, Johnny Dollar", and "Constantine" Harry Strange is a whiskey-swilling adventure that combines the golden age of radio with contemporary storytelling. All content Copyright (c) 2011 - Forever by Tony Sarrecchia. All Rights Reserved.
It's 1914 and sweeping change blanketed America like a shroud. Small towns decayed while cites bloated like a corpse in the sun under the weight of new arrivals, both foreign and domestic. Through it all, Moria Le Fanu finds her way to New York City to seek an audience with reclusive scientist Nikola Tesla. She knew that more than rustics and immigrants made their way to America; something darker, and unnatural. And she planned to enlist Tesla to help her destroy it.
Coming Winter 2023, The Monster Universe Audio Drama is a full cast radio play, featuring the vocal talents of: Andrea Laing (Adult Swim Yule Log, Atlanta, Strays) Michael Mau (A Blind Play of Social Forces, The Oval, Monarch), Emma Greene (The Harry Strange Radio Drama, Jeremiah Willstone, Dead by Midnight) and Matt Goodson (Willow of Ashes, Xenotech Rising, The Harry Strange Radio Drama Live) (full cast here); created by Tony Sarrecchia (The Harry Strange Radio Drama, the Lady Sherlock Mysteries, the Adventures of Scarlett Hood). 
The podcast will be available from your favorite podcast aggregator (Spotify, Audible, Apple Podcasts and others) or directly from: https://api.substack.com/feed/podcast/1827171/s/75206.rss. 
Email subscribers get episodes/trailers first as well as special behind the scenes features, so follow the link below to be the first kid on your block to get the latest deets from The Monster Universe.
All contents Copyright © 2023 by Tony Sarrecchia