Discover more from Welcome to the Strangeverse
The official newsletter of Tony Sarrecchia
Lady Sherlock is Available for Pre-Order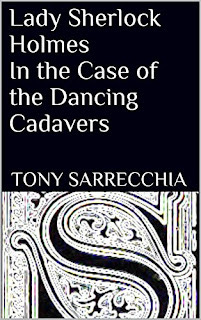 My new novella, Lady Sherlock Holmes in the Case of the Dancing Cadavers, is available for pre-order on Kindle. This is the same story that the Atlanta Radio Theater Company will perform live at 221B Con in April 2018. Order your copy now! (Note--that is not the final cover art).
"When an undertaker's daughter witnesses her father's suicide, she is suspicious; when she sees cadavers dancing in his morgue, she knows skullduggery is at play. She turns to the world's foremost, and only, consulting detective to solve the mystery.
Set in a world where England and France sail among the stars in Outer Atmospheric Ships, while America enters its reconstruction period; Lady Sherlock is a non-traditional hero in a universe filled with automatons, directed-energy-beams, and analytical engines.
This edition includes the radio script adaptation performed by the Atlanta Radio Theater Company at a convention in Atlanta, as well as a teaser for the next novella."