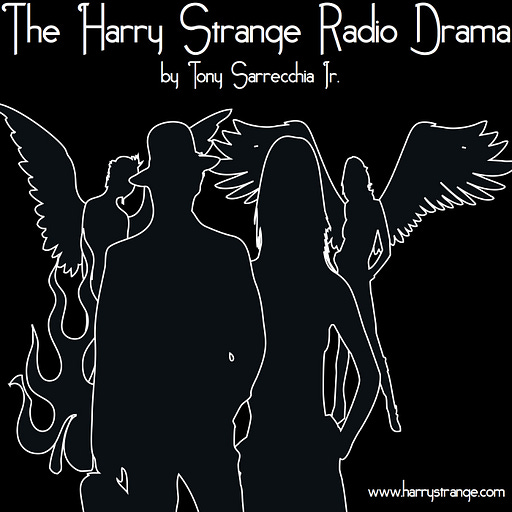 Feb 18, 2011 • 25M
Harry Strange 102, Teenaged Girls Do the Darnedest Things
"Magic and magical people—the 'unnatural order' is all around us. There are good witches, evil witches, demons, vamps, werewolves, shape shifters, ghosts; it's a protoplasmic party of creature features out there. But unless you know where to look, you won't find them. I know where to look. My name is Harry Strange." And so begins each episode of the Harry Strange Radio Drama, an award-winning, full-cast, scripted audio drama. Harry is a crusader for justice, and champion of an archangel who makes his own decisions regardless of what the 'good guys' desire. Because of a promise Harry made, he is "both painfully mortal and achingly immortal, and those conflicting impulses mesh with an almost unearthly smoothness throughout his casebook history." A combination of "Yours Truly, Johnny Dollar", and "Constantine" Harry Strange is a whiskey-swilling adventure that combines the golden age of radio with contemporary storytelling. All content Copyright (c) 2011 - Forever by Tony Sarrecchia. All Rights Reserved.
Tonights episode, Harry Strange 102, Teenaged Girls Do the Darnedest Things, was written and directed by Tony Sarrecchia and produced by Breanne Ahearn and Tony Sarrecchia. All material is copyright by Tony Sarrecchia and used with his permission. 
Featured in tonights cast were: Casey Morgan, Sylvia Galan, Kellen Stennett, Parker Wierling, Christine Kohl, Rob Van, Laura Post, and Herrari Hamilton
Harry's theme music was written and performed by Lance Haugen (Hogan) and is copyright by Lance Haugen and used by permission. Contact Lance at his email
Incidental music was written and performed by Kevin Macleod and is copyright by Kevin Macleod and used by permission. Visit incompetech.com/ for more of Kevin's music. 
Visit harrystrange.com to keep up with the latest news and information on everyone's favorite private investigator. Send your questions, comments and suggestions to producer@harrystrange.com 
For the Harry Strange Radio Drama, I am Breanne Ahearn, thanks for listening.